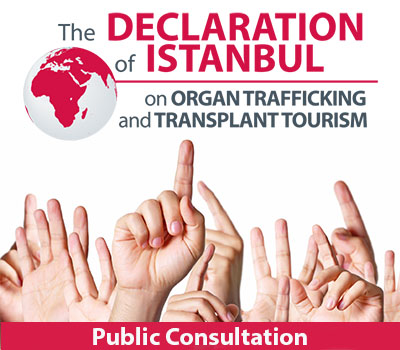 Participate in the DICG public consultation concerning the Declaration of Istanbul (2018 Edition)

To view the draft DoI (2018 Edition) and provide your feedback via our survey, please click here.
---
To celebrate the 10th Anniversary of the Declaration of Istanbul (DoI), a working group of the Declaration of Istanbul Custodian Group (DICG) has prepared a draft update to the Declaration. The revisions made in this 2018 Edition are intended to ensure that the DoI remains a valuable source of ethical guidance for health professionals and policy makers during the next decade in the face of persisting and emerging challenges in organ trafficking and transplant tourism around the world. To achieve this goal, we need your help.
Please share your time and expertise with us, and provide feedback on our draft documents here.